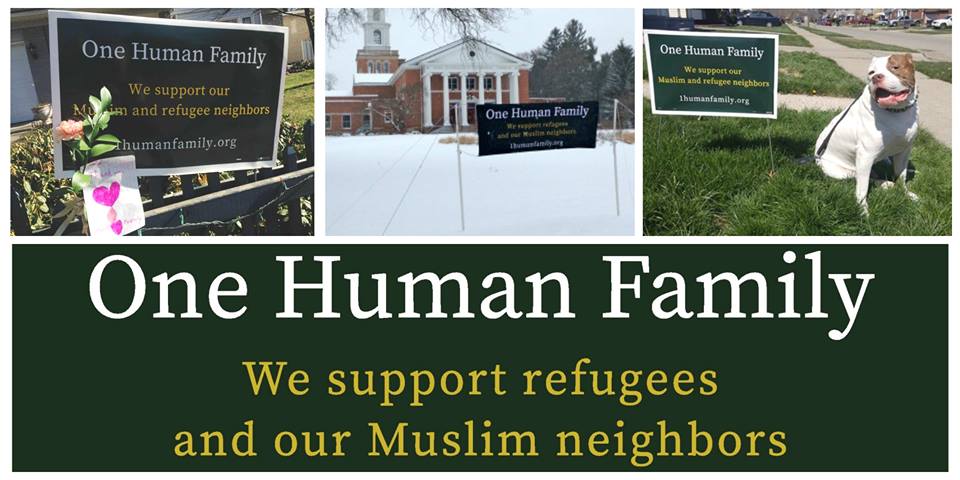 All deserve to feel welcome in this home we share, and we want our Muslim sisters and brothers who have supported us consistently as community members to know that when they are so unfairly condemned we will speak out more loudly to defend them. Additionally, for those seeking to create a home in the United States, we are a nation who believes in judging others by their character, not by their color, nation of origin or religion. We are one human family.
By displaying a yard sign or banner you can publicly show your support for Muslims and refugees targeted by harassment and intolerance.
Pick up a Yard Sign
Donate online here or in person.  Call 734.663.1870 or email Info@ICPJ.org to arrange a pick-up time. Yard signs have a suggested $10 donation. Please make an appointment to pickup at the Interfaith Council for Peace and Justice office, 1414 Hill St. Ann Arbor MI, 48104, behind the Ann Arbor Friends Meeting house, with parking available off the alley in back.
Order a Banner
Banners are 8'x3′ and are available for $100, including shipping within the contiguous United States. Expect 7-10 business days for delivery. Banners are printed on weather-resistant vinyl. Order online here. For express service call 734.663.1870.
Other Ways To Take Action
Learn about the issues
Book a workshop:Â Contact ICPJ to book a workshop on Understanding Islam, "A Nation Divided or One Human Family? Building Connections Across Difference for Peace and Justice," or other topics on justice and inclusion (available in the SE Michigan region). Email Info@ICPJ.org or call 734.663.1870 for details.
Read:Â the Council on American Islamic Relations has terrific About Islam resources.
Watch:Â ICPJ has copies of the Discovering Islam Documentary Film Series available for check out for group viewing.
Build Relationships
Interfaith Council for Peace and Justice is organizing a variety personal encounters across religious and other differences as part of our Understanding and Relationship Building Across Difference program. Contact Info@ICPJ.org or call 734.663.1870 to learn more.
Gain Skills
Bystander Intervention Training: As we see media accounts of attacks against immigrants, Muslims, and other populations, many of us have asked ourselves, "what would I do if I were there?" The good news is that there are skills and techniques that you can learn and practice to keep others safe. You don't have to be passive! ICPJ can train you how to respond. Our Bystander Intervention Training will teach the basic tactics you can use to de-escalate or redirect threats and harassment. Visit our events page for a list of upcoming public trainings, or contact Info@ICPJ.org to for information about booking a training for your school, congregation, or workplace in Washtenaw County. Outside of Washtenaw County please contact Meta Peace Team for training opportunities.
Coverage of the One Human Family Campaign
[iframe src="https://cdnapisec.kaltura.com/p/2031091/sp/203109100/embedIframeJs/uiconf_id/36217991/partner_id/2031091?iframeembed=true&playerId=media-preview_0_1_1e7ad9lu&entry_id=1_1e7ad9lu" width="640″ height="395″]
"Peace is Here" video by Q4T!
https://youtu.be/Lym2PyyyfKM
Listen to former ICPJ Director, Chuck Warpehoski, talk about the impact of the One Human Family campaign on the Giving Back Podcast here.