For the detailed event listings, scroll down. Please note: The calendar is updated more frequently than the detailed list.

If you would like an event or meeting added to the calendar, please complete this short form.

To add the ICPJ Community Peace & Justice Events calendar to your existing calendar program, click on the "+" before the words Google Calendar in the lower right hand corner of the calendar above.
Upcoming Peace & Justice Events
October 2019
ICPJ Peace & Justice Capacity Building Workshops:
Uncovering the Root Causes

Tuesday, October 29 ~ 6-7:30pm'
Ann Arbor Friends Meeting House (1420 Hill St.)
Guest Facilitator- Danyelle Reynolds, UM Ginsberg Center and Vineyard Church Board
We will spend our time together understanding how our work connects with the greatest needs in Washtenaw County and beyond. We will then explore some of the root causes of issues that matter to us and map how our collective energy and resources can help us move toward deeper impact and intersectionality.
November
Migration & Memories: Paintings by Emilio Gutiérrez Soto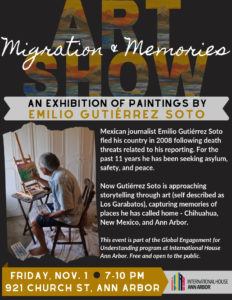 Friday, November 1 ~ 7 to 9 pm, Opening remarks will begin at 7:30 pm
Hosted by International House Ann Arbor and Interfaith Council for Peace & Justice. For those forced to flee their homelands, retaining memories is central to the art of survival. Mexican journalist Emilio Gutiérrez Soto fled his country in 2008 following death threats related to his reporting. For the past 11 years he has been seeking asylum, safety, and peace. Now Gutiérrez Soto is approaching storytelling through art, capturing memories of places he has called home – Chihuahua, New Mexico, and Ann Arbor.
This event is part of the Global Engagement for Understanding program at International House Ann Arbor. Free and open to the public.
More information here.
2019 Annual ACLU Michigan Dinner: Our Movement, Our Moment
Friday, November 1
The Henry Ford Museum
Featuring Rev. Dr. William Barber II, Co-Chair of the National Poor People's Campaign, as Keynote Speaker. As this is a fund-raiser for the ACLU Michigan, there is a charge for tickets.
More information here.
Portraits of Faith
Wednesday, November 6 ~ 7 to 9 pm

International House Ann Arbor
921 Church St, Ann Arbor, Michigan 48104
Acclaimed Portraits in Faith producer Daniel Epstein will be visiting International House Ann Arbor to share spiritual insights gleened from people living in all corners of the world. This event will include a live interview and interactive discussion.
Daniel Epstein, a Marketing Director at one of the world's largest corporations, Procter & Gamble, has been travelling the world for business and for faith. Motivated by his own search to fill the "God-sized hole" in his life, he did not know where it would lead. Born and raised a Jew, Daniel's challenges with relationships, work, and "life" forced him at age 36 to get on his knees and pray to a God he did not know, a higher power not specific to either his own Judaism or any religion, and ask for help. In order to keep his new found sense of faith alive and to gain from the experience of others, Daniel created a spiritual exercise out of interviewing people around the world about the role of faith in their lives. As a photographer, Daniel also captured a moment with each person in a black and white portrait meant to evoke their true spirit.
What emerged is the world's most extensive oral history / testimony project conducted by one person on the subject of faith. Daniel has interviewed and made portraits of 400 people from 25 countries representing well over 50 religions, denominations, and spiritual followings.
The Global Culture and Arts Series is part of the Global Engagement for Understanding program at International House Ann Arbor. This event is free and open to the public.
Facebook page
Michigan Interfaith Power & Light's 12th Sustainability Conference
Friday, November 8 ~ Registration 8:30 am, Conference 9 am to 4 pm
Marygrove College, Detroit
Michigan Interfaith Power & Light's biennial conference gathers faith leaders, people of conscience, and members of grassroots movements to LEARN from frontline groups about their challenges and successes, to SHARE stories about experiences and initiatives from around the state, and to CONNECT with one another across divides.
More information here.
ICPJ Harvest Dinner Fundraiser
Tuesday, November 12th

Cobblestone Farm
2781 Packard Street
Ann Arbor, MI 48104
Join us as we celebrate the work of social justice activists in Washtenaw County and raise funds to make ICPJ impactful and sustainable.

Register online here.
Or download the Harvest Dinner poster with registration form here.
Join us to honor
ICPJ Peace & Justice 2019 Honoree
Yodit Mesfin Johnson
 
Peace & Justice Network Organization of the Year
Washtenaw Interfaith Coalition for Immigrant Rights (WICIR)
 
Anti-Racist Advocate Award
Janet Nord
 
Emergent Leader Award
Hoai An Pham
 
Network Weaver Award
Ron Gregg 
The Interfaith Council for Peace and Justice unites people across differences to act from shared ethical and spiritual values. We intentionally center efforts to build systems of love and abundance rather than the current violent systems of white supremacy and patriarchy.
Through ICPJ, you can address issues of racial, economic, immigrant, housing, global/anti-militarism, and environmental justice through education, community organizing, advocacy, and direct action.
Together, we can strengthen, broaden, and deepen Washtenaw County's peace and justice community through strategic leadership, capacity-building programs, information-sharing, and by supporting organizations that directly serve those most impacted by injustice.
Please join us in action and to financially support the
Interfaith Council for Peace & Justice
School of the Americas Watch Vigil at Ft. Benning

30th Anniversary of the Jesuit and women martyrs of the UCA in San Salvador
November 15-17 in Columbus, Georgia
Since 1990, activists have been gathering to oppose the School of the Americas / Western Hemisphere Institute for Security Cooperation. The non-violent movement aims to end U.S. economic, military and political intervention in Latin America, demilitarization and divestment of the borders and to call attention to the oppression of migrants.
If interested in going with the ICPJ contingent, please contact [email protected]
ICPJ Peace & Justice Capacity Building Workshops: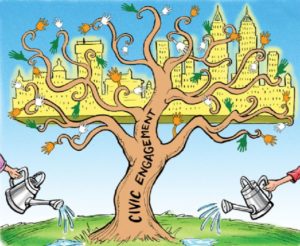 Tools for Participatory Governance
Saturday, November 16 ~ 3 – 4:30 pm
Riverside Arts Center, 76 N. Huron St., Ypsilanti
Guest Facilitators- Annie Somerville, Ypsilanti City Council- Ward 3; Alex Thomas, West Willow Organizer; Amber Fellows- Ypsilanti Human Relations Commission- Chair
As we work toward stronger democratic practices, it is important for community members to understand the roles they can play in building the future we wish to see through public policy and in the political sphere. We will learn about tools and strategies to hold public officials accountable to the needs of the community as well as ways that community members can directly participate.
Housing NOW! March
Sunday, November 17 ~ 1 PM
Liberty Park, Ann Arbor
The Washtenaw General Defense Committee is organizing a march for housing for Ann Arbor and Ypsilanti residents, ICPJ is one of the co-sponsors.
December
ICPJ Peace & Justice Capacity Building Workshops:
Rapid Response Planning
Thursday, December 12 ~ 6-7:30 pm
Journey of Faith Christian Church (1900 Manchester Rd.)
Guest Facilitators- Sheri Wander, Ypsi Peace House and Ann Arbor Daytime Warming Center; Bridget Huff, Michigan Democratic Party Progressive Caucus E-Board; Amory Zhou, EMU Student and Community Organizer
We will learn tools, strategies, and efforts we could join to better activate a personal network to serve an immediate community need or to mobilize a crowd for a public protest or action. We will have a short panel with breakouts so attendees can create their own plans.