President & Treasurer: Jeannine LaPrad (she/her) has lived in the Ann Arbor-Ypsilanti
area for almost 30 years, coming initially to study as an undergraduate student at the University of Michigan, and returning to complete a masters degree program at the Center for the Study of Higher and Postsecondary Education.  For the past 20 years Jeannine has worked with leaders in the non-profit, government, education, and business sectors to reshape postsecondary education and employment policies and practices in ways that create more equitable outcomes for students, workers and communities. Currently she working on projects that center worker voice and experience, the need for better jobs, and a commitment to racial equity and inclusion. Jeannine has been a member of the Unitarian Universalist Congregation of Ann Arbor (UUAA) since 2017 and has been active with the challenging racism, climate action, and living our values (LOV) teams.  She also recently served on the UUAA vision 20/50 leadership team.  Jeannine currently lives with her husband, David, and dog, Pela, on the edge of Ann Arbor and Dexter.  She loves communing with nature, cooking, listening to music, building new relationships, and deepening existing ones.  Jeannine also enjoys working with organizations, like ICPJ, that are committed to helping people develop the capacity to act on their values in pursuit of a more just, peaceful, and sustainable future.
Vice President: Audrey Anderson loves community. She spent years working in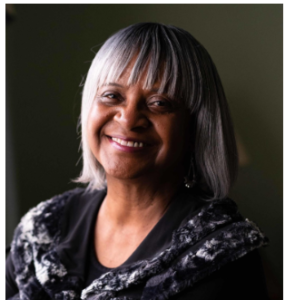 community health positions as a registered nurse, beginning with the Washtenaw Community Health Department in the 1990s. She transitioned to Wayne State University's Community Health Department as a program manager for the Nicholas J Hood Comprehensive Diabetes Program for faith-based institutions in Detroit Metropolitan areas. Late one afternoon in June 2017, Audrey Anderson attended a Washtenaw Regional Organizing Coalition (WeROC) meeting with her Pastor Theron Kersey. The meeting reignited her affection for working in the community. Audrey went on to become a recipient of The Gamaliel National Network week-long training for Community Organizing, advocacy and civic engagement campaigns. Additionally, Audrey Anderson has volunteered in the community with the Washtenaw County Jail ministry Empowering Services Inc, A Brighter Way, Hope Clinic, and the ICPJ poverty simulation. In Audrey Anderson's spare time she enjoys singing, time with grandchildren, get away trips, and bible study.
Secretary: Hillary Watson works as a nonprofit consultant at NEW, empowering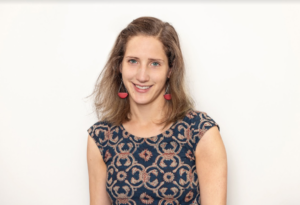 nonprofits, resisting the structures of the nonprofit industrial complex, and offering capacity building to nonprofits across Southeast Michigan. She pastored for 8 years in Mennonite Church USA, a historic peace church tradition, including 3 years at Shalom Community Church in Ann Arbor. In addition, she spent many years in the spoken word/poetry community, as an organizer and a writer. Originally from Seattle, she holds a Master's in Divinity from Emory University and a B.A. from Goshen College.
Betsy McCabe has lived in Ann Arbor for over 25 years, raising two
children in the Ann Arbor Public School system. Betsy has run a business as an independent piano teacher since 2001. Prior to that, she worked in environmental policy for 10 years at the U.S. Environmental Protection Agency in Ann Arbor, and for 3 years in organizations Washington D.C. and Nashville TN. Betsy grew up in Georgia and earned an undergraduate degree in History from the University of Georgia in History, and a Ph.D. degree in Philosophy from Vanderbilt University. Betsy worships at the Church of the Good Shepherd UCC, a multi-racial, LGBTQ affirming congregation. Betsy has volunteered at ICPJ since Fall 2015 as a member of the Racial and Economic Justice Task Force and the Sustainability Task Force. She also volunteers in office doing outreach to ICPJ members. Betsy is honored to be a part of the ICPJ community where she finds fellowship, inspiration, and strength and courage to work to make our world, our country, our county, our community more safe and just for all.
Donna Mitchell was born in Ypsilanti, and while she grew up in
Inkster, she has lived in Ypsi and Washtenaw County on and off for most of her life. She has Bachelor's in Communications and Education from Western Michigan University in Kalamazoo, and earned a Master's in Social Work from Eastern Michigan University in 2013. Her son, Brandon, is a musician who lives in Ann Arbor. Donna joined ICPJ in 2017 as a member of the REJ Caucus after attending "Safely Talk about Race and Racism" film and dialogue series at the Ypsilanti District Library. She is passionate about racial justice and was excited to join an organization doing work in this area. The momentum that has been building during the pandemic and the Black Lives Matter protests, and the disproportionate deaths of Black people, has clarified her purpose in doing racial and economic justice work.
Trevor Bechtel is an educator, pastor, theologian and musician. He is the
Student Engagement Coordinator at Poverty Solutions, the University of Michigan research initiative focused on innovative solutions to preventing and alleviating poverty. He is also the Project Lead for the Prosecutor Transparency Project, a collaboration between the Washtenaw Prosecutor's office, Michigan Law, Poverty Solutions and the ACLU. He is a teaching pastor at Shalom Community Church in Ann Arbor and Creative Director of the Anabaptist Bestiary Project, a rock and roll bestiary. He has taught religion and ethics at a number of Universities throughout the Great Lakes region, including as Associate Professor of Religion at Bluffton University and Dean at Conrad Grebel University College. He also serves as Convener for the Animal Ethics Interest Group of the Society of Christian Ethics. He has lived in Ann Arbor for 10 years with his partner Susan Hunsberger and their cat, Neko.
Finn Bell has been putting down roots in Ypsilanti since 2013. Prior to
moving to Ypsi, Finn worked as a community social worker in Denver. He was the co-director of a small nonprofit that worked with homeless youth, an administrator at a social justice-focused foundation, and a social worker at an empowerment-based social service agency. Finn comes from a large, Irish-Catholic family in St. Louis. He is currently a PhD candidate in Social Work and Sociology at the University of Michigan. His research focuses on food sovereignty and land justice amidst climate change and gentrification in Ypsi. He teaches courses in sociology and social work with a focus on environmental justice, social change, and service learning. Finn has been involved in organizing around immigrant and prisoner rights, and racial, economic, and environmental justice. Finn is an avid gardener, forager, and chicken tender.
Kira Berman grew up in San Francisco, CA and moved to Ann Arbor in
1999 to work for the University of Michigan Museum of Natural History, where she currently is the Assistant Director for Education. She has lived in Ypsilanti since 2003, and served on the Ypsilanti Community Schools Board of Education from 2008-2012, where she helped change policies to support LGBTQ students and staff, and worked to integrate professional training on race and identity into Ypsilanti schools. Kira is passionate about equity in education, and is currently a member of Washtenaw Faces Race, a volunteer community group that organizes community conferences and conversations about racial equity. Kira also serves on the board of the Ypsilanti Youth Orchestra and is a member of the Ann Arbor Reconstructionist Congregation.
Ines Jimenez Llorente grew up in Spain, but found herself studying in the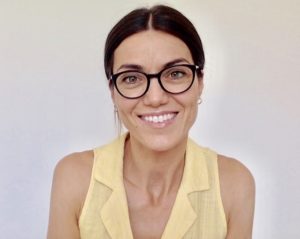 south of France, then working in England, and eventually moving to the United States. Ines' work has been as diverse as her travels, with stints at Amnesty International, American Express, the Consortium on Gender, Security and Human Rights, and the Unitarian Universalist Service Committee. Over the past few years, Ines' personal experiences in the U.S. and her most recent job supporting grassroots organizations working on forced-displacement and migration issues in Cambridge, MA drew her attention to immigration policy and migrant/refugee integration. Ines has recently finished a Master of Public Affairs at the University of Michigan and is currently looking for opportunities to work informing immigration and integration policies, as well as engaging and empowering migrants as development actors.