President: Sheri Wander Who am I? That answer changes from moment to moment. I am a lover, learner, wanna-be radical, struggling-to-be pacifist, mama to chosen family, occasional writer, dog caregiver, Catholic worker, non-violence trainer, organizer, and a basic mess trying to live my life "as if".

Currently, I am living in Ypsilanti, Michigan at Peace House, Ypsi — a house of hospitality in the tradition of the Catholic Worker Movement. At Peace House we try to bandage some of the wounds of capitalism. We try to help people to gain the tools, skills, and confidence to bandage their own and other's wounds — and to confront and dismantle the systems that cause the bleeding.
During the winter months, I coordinate the daytime warming shelter for Washtenaw County, a unique, democratically-governed space run by the homeless community for the homeless community. In rare moments of downtime I enjoy spending time with my co-conspirator and husband Pat and our undaunted chaos machine (aka dog ) Xena.
Vice President: Kira Berman grew up in San Francisco, CA and moved to Ann Arbor in
1999 to work for the University of Michigan Museum of Natural History, where she currently is the Assistant Director for Education. She has lived in Ypsilanti since 2003, and served on the Ypsilanti Community Schools Board of Education from 2008-2012, where she helped change policies to support LGBTQ students and staff, and worked to integrate professional training on race and identity into Ypsilanti schools. Kira is passionate about equity in education, and is currently a member of Washtenaw Faces Race, a volunteer community group that organizes community conferences and conversations about racial equity. Kira also serves on the board of the Ypsilanti Youth Orchestra and is a member of the Ann Arbor Reconstructionist Congregation.
Treasurer: Judy Jackson is a native of Ypsilanti and has lived in the area for over 40 years (non-continuously). She spent her formative years in Decatur, IL but returned to Michigan to attend Eastern Michigan University, where she received a Bachelor of Business Administration degree and later a Master of Business Administration. She was an Information Technology professional for over 30 years, initially in the private sector, servicing and engaging with small businesses and corporations. Later she was employed by the U.S. Environmental Protection Agency, where she retired as an Agile Software Project/Product Manager after twenty-three years of service. Judy attained multiple project management certifications, and in 2016 was a Fed 100 Awardee for being a "Methodology Modernizer" for designing creative implementation strategies to ensure that each solution used risk-based approaches to maximize the environmental return and minimize costs.
In her retirement with her beloved boxer Coco, she pursued her passions in gardening, crafting, genealogy, and social justice. She is a member of the Ypsilanti Historical Society, the Genealogical Society of Washtenaw County, The Black Belt African American Genealogical & Historical Society, The Fred Hart Williams Genealogical Society, the historical Palm Leaf Club, and WeROC (The Washtenaw Regional Organizing Coalition), where she works on their Voters' Rights and Access Action Team.
Secretary: Finn Bell has been putting down roots in Ypsilanti since 2013. Prior to 
moving to Ypsi, Finn worked as a community social worker in Denver. He was the co-director of a small nonprofit that worked with homeless youth, an administrator at a social justice-focused foundation, and a social worker at an empowerment-based social service agency. Finn comes from a large, Irish-Catholic family in St. Louis. He is an assistant professor of human services at the College of Education, Health, and Human Services, University of Michigan. His research focuses on food sovereignty and land justice amidst climate change and gentrification in Ypsi. He teaches courses in sociology and social work with a focus on environmental justice, social change, and service learning. Finn has been involved in organizing around immigrant and prisoner rights, and racial, economic, and environmental justice. Finn is an avid gardener, forager, and chicken tender.
Leslie McGraw is a poet, writer, and social media activist who provides resources, coaching, and in-person or online tools for community members to share their voice and personal narrative to build and strengthen the world around them. She began writing poetry in third grade when she discovered her voice through the pen.
Leslie has been the Director of Communications for Protectors of Equality in Government (PEG) since 2017, a core member of the VOTE Caucus of ICPJ since 2022, and has been a member of multiple writers groups and grassroots movements. Last Fall, Leslie founded the Elbert Williams Voting Corner and Elbert Williams Voter Engagement Day and is currently the sponsor and lead facilitator of the first ever Elbert Williams Digital Media Cohort Summer 2023 in partnership with the West Side Promise Neighborhood and the Civic and Community Engagement Office at Buffalo State University in New York.
Passionate about promoting social justice and creating positive change in her community, Leslie imagines a world that uses the poise, pause, and peace of a poem and the dynamo of digital media and social networking to disarm the status quo and inspire creative brands and organizations to use their platforms intentionally and heartfully.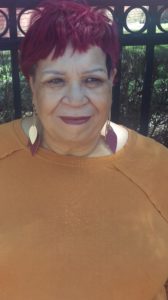 Donna Mitchell was born in Ypsilanti, and while she grew up in Inkster, she has lived in Ypsi and Washtenaw County on and off for most of her life. She has Bachelor's in Communications and Education from Western Michigan University in Kalamazoo, and earned a Master's in Social Work from Eastern Michigan University in 2013. Her son, Brandon, is a musician who lives in Ann Arbor. Donna joined ICPJ in 2017 as a member of the REJ Caucus after attending "Safely Talk about Race and Racism" film and dialogue series at the Ypsilanti District Library. She is passionate about racial justice and was excited to join an organization doing work in this area. The momentum that has been building during the pandemic and the Black Lives Matter protests, and the disproportionate deaths of Black people, has clarified her purpose in doing racial and economic justice work.
Vickie Wellman grew up in Detroit City in the 50's while there was lots of activism, organizing, lots of life while at the same time it was the beginning of the white flight, the big car companies leaving the city and so much more.
My parents were radical activists and we grew up living and believing everyone needs and must have housing, food, jobs, health care, education. Everyone, including all people. I still live and practice these beliefs.
I left home at 18 and came to Ann Arbor to work as a hairdresser, which I did for the next 20 years. I had 3 kids, went to school part time, worked part time and earned a bachelor and master degree.
We lived in Colonial Square Coop for about 25 years. It was a wonderful place for my kids to grow up. A very diverse integrated community, with very young to very old people, from many economic variations and best of all it was affordable.
I've been happily married to Ian the past 35 years and he is my partner, my buddy. We are very fortunate to be this older generation, with enough money, health care, friends, and family. We have enough and sharing and giving back is very important part of our lives.
I've been active in many things during my life and I remain active and busy and engaged.
The beliefs I grew up with I continue to believe and continue to work for.
I'm a lifelong gardener and I continue that passion, working to make this planet better and sustainable for us all
I've been involved with ICPJ years ago and I continue to pay attention to many of the things they support and make happen. I've been impressed with the leadership and energy and the direction of ICPJ recently.
I look forward to being a part of this next chapter of change and growth. We and our world certainly need to do things differently for us all to survive.