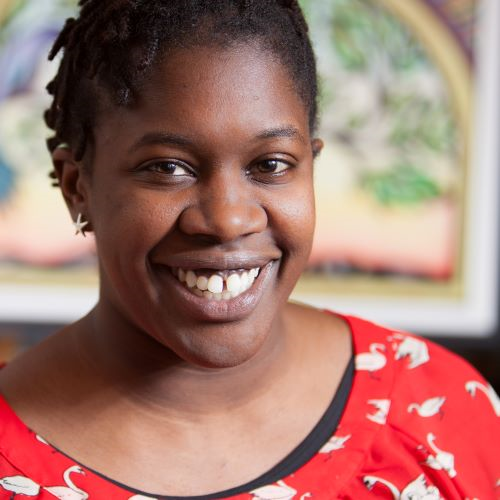 Desiraé Simmons, Co-Director
Desiraé (Desirae@icpj.org) lives in Ypsilanti with her husband Zander and almost 2-year-old daughter Indigo. She is originally from Chicago and Cleveland and moved to Michigan 4 years ago from Boston. Her previous professional experience is in experiential and community-based learning where she designed curriculum, created and facilitated workshops around systemic discrimination and reflective practice, and built relationships across difference. Since being in Ypsilanti, she co-hosted a resistance march focused on the love, resilience, and history of activism in the community; organized for affordable housing, keeping a school within the Ypsilanti Community School district, and a Community Benefits Ordinance; ran for City Council as a nonpartisan candidate; and she currently holds leadership positions within the Washtenaw County Democratic Party and serves on a citizen committee for housing affordability and accessibility.
Eleanore Ablan-Owen, Co-Director
Eleanore (Eleanore@icpj.org) has served numerous community nonprofits and resident groups in Detroit, emphasizing community ownership of land, community wealth-building, and resident-led decision-making regarding land use and neighborhood planning. Eleanore has a BA in Sociology from the University of Michigan and a Masters of Urban Planning from Wayne State University. As an activist Eleanore has worked on a variety of social justice issues – from prisoners' rights, anti-militarism, police accountability, and worker rights, to environmental justice. In her downtime, Eleanore organizes tree plantings, builds community gardens, and loves to hike and bike ride with her two sons attached to the back of the bike.