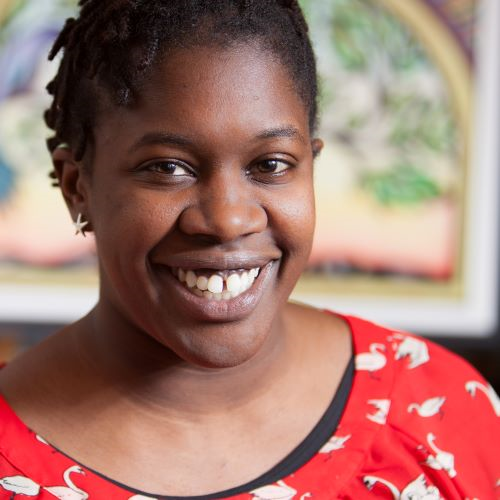 Desirae Simmons, Co-Director
Desirae (Desirae@icpj.org) lives in Ypsilanti with her husband Zander and daughter Indigo. She is originally from Chicago and Cleveland and moved to Michigan from Boston. Her previous professional experience is in experiential and community-based learning where she designed curriculum, created and facilitated workshops around systemic discrimination and reflective practice, and built relationships across difference. Since being in Ypsilanti, she co-hosted a resistance march focused on the love, resilience, and history of activism in the community; organized for affordable and accessible housing, keeping a school within the Ypsilanti Community School district, and a Community Benefits Ordinance; served as a Sustainability Commissioner; was elected for City Council; and she currently holds leadership positions with What's Left Ypsi, Citizens for Racial Equity in Washtenaw (CREW), and Washtenaw Justice Project.
In her spare time, Dez enjoys gardening, writing poetry, and dancing.
Eleanore Ablan-Owen, Co-Director
Eleanore (Eleanore@icpj.org) has spent the majority of her life in Detroit, as an activist she organized across many intersecting social justice issues — from prisoners' rights, anti-militarism, police accountability, and worker rights, to environmental justice and affordable housing. After receiving her Masters in Urban Planning, she worked to democratize data and radicalize planning — emphasizing community ownership of land, community wealth-building, and resident-led decision-making regarding land use and neighborhood planning. She served numerous community nonprofits and resident groups in Detroit.
She loves working with others to envision the way that we want our communities to heal and grow. Whether that's through rehabbing vacant houses, building community gardens, facilitating non-violence trainings, or envisioning a what a care-based safety program will look like – her goal is to build with others a just future where we are all liberated from all forms of violence. She is a facilitative leader, working with others to find their own superpowers and build their personal or organizational capacity to create change.
Eleanore has organized many tree plantings and community gardens as a way to bring community together, closer to our roots and the earth. She loves to farm, hike, and bike ride with her two sons and partner Lance.
Erica Mooney, Environmental Justice and Generations Campaign Organizer
Erica was born and raised by the Huron River watershed. Relating to place via people who are dedicated to supporting each other with care and connectivity across topics has been the foundation of this human's journey. As a student at EMU, Ypsilanti cast a magic spell and kept Erica here – anchoring participation in the city's Climate Action Plan became a cornerstone for a degree in Urban & Regional Planning. Fellowships with Young People For, Focus the Nation, Coaching for Social Change, and the Economic Justice Alliance of Michigan are among a few of the intersectional leadership and training opportunities that have enriched, humbled, and informed Erica's ethics and practice.

Growing food & medicine, foraging, hiking and paddling join contemplative practices such as yoga and tai chi in grounding them. Bridging social justice and spirituality is another lifelong journey, and healing with ancestral medicine, practicing as a student of decolonization, and mediumship are core to the unique perspective Erica holds. Ecosystems that are also called home: Up North Michigan and Southern Oregon, as well as travels here and abroad add expansive connections, tangible and inspirational visions of a surthrivable future for this traveling localist & community pollinator.
Erica also works as an organizer of stuff and things, offering services to bring simplicity and ease to people's lives by decluttering. They have a dual specialty: supporting people who are dealing with or preparing for death – and support for neurodivergent folks to create peace in their home and work spaces. Find out more about working one on one with them: https://msha.ke/communitypollinator
Erica is a community pollinator; bridging grassroots and global praxis to cultivate healthy living systems. They incubate and facilitate fruitful connections – resulting in a plethora of collaborations and projects. Connecting across audiences, Erica designs ways for decisions that determine the conditions of life to be decided by all.