ICPJ Generations Campaign Launch Party ~ Sunday, June 26th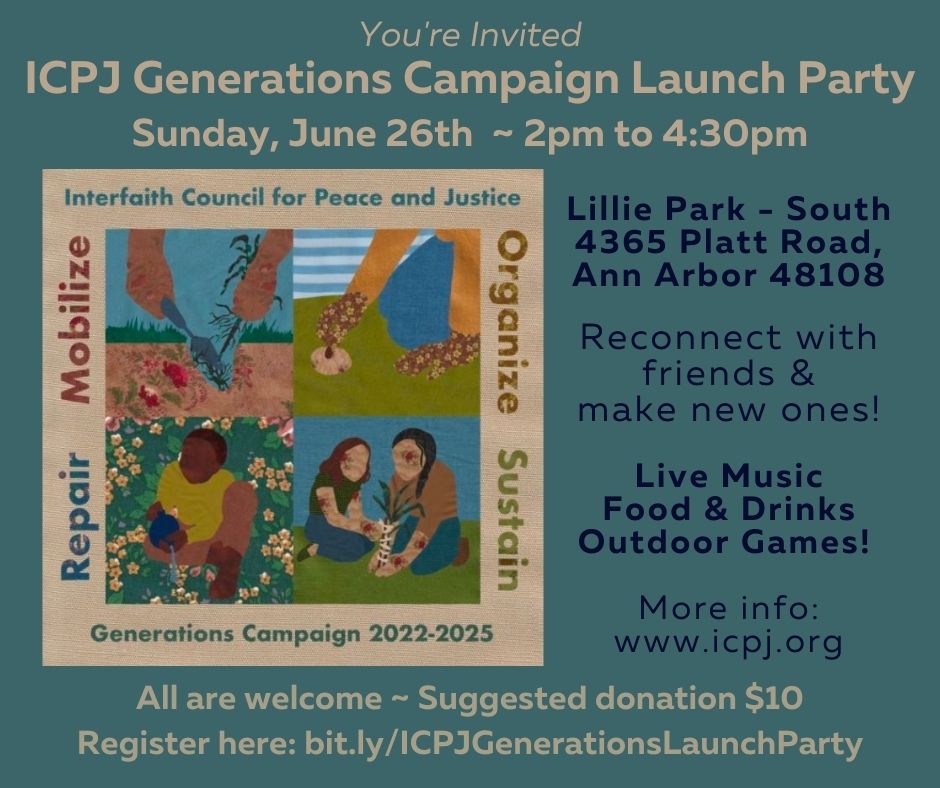 Register at the link here:
https://bit.ly/ICPJGenerationsLaunchParty

All Are Welcome!!!
For no-cost tickets, please complete this form: https://forms.gle/SnxcBZCQb7ubKW6w5
or email Info@ICPJ.org, or leave a message at 734.663.1870
Now it the Time to Act Boldly for Racial and Economic Justice!
ICPJ is launching the Generations Campaign – an opportunity to deepen community conversations, to build investment in our work and the community, and to honor the wisdom and passion of seasoned advocates and emerging leaders.
The status quo is a powerful force. We cannot overcome it alone. We recognize that to build the relationships necessary to create just change, we need to move outside of what is, and move toward what will be.
We need to mobilize more people in our communities to act, across differences, with aligned values toward a shared vision of racial and economic justice.
We need to organize ourselves in ways that respect history, culture, and differences and that prioritize and build authentic relationships to deepen the impact of our work.
We need to repair the systemic and intergenerational harms of white supremacy, capitalism, and militarism. We need to repair harms through transformative systems change – and also with liberating, healing practices within our relationships and in the ways that we go about this work.
We need to sustain ourselves and our community so that we are ready for what comes next.
The Generations Campaign is a three-year campaign to build ICPJ's organizational capacity and our collective, community capacity to accelerate action to match the urgency of now.
---