For the detailed event listings, scroll down. Please note: The calendar is updated more frequently than the detailed list.

If you would like an event or meeting added to the calendar, please complete this short form.

To add the ICPJ Community Peace & Justice Events calendar to your existing calendar program, click on the "+" before the words Google Calendar in the lower right hand corner of the calendar above.

Upcoming Events
TOMORROW: July 12th 8 pm
Vigils in Ann Arbor and Ypsilanti to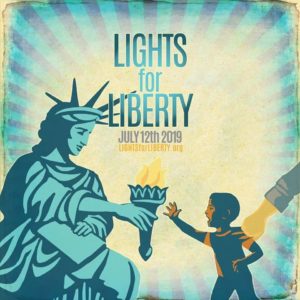 Support Immigrant Rights & Oppose Detention Centers
#ClosetheCamps

Ypsilanti ·  Riverside Park ·  2 East Cross Street and

Ann Arbor · Federal Building· 200 E Liberty Street
The Interfaith Council for Peace and Justice, along with other local organizations, groups, and individuals in our network, are coming together to host a vigil to end the detention camps and all of the violent policies impacting undocumented immigrants and asylum seekers. We want to come together to grieve the lives already lost as well as the ones forever changed by the trauma endured. We want to find solace in being with others who will not tolerate these atrocities happening at the southern border and across this country at the hands of ICE. And, we want to share resources and opportunities to act locally by connecting with ongoing efforts to support our own community. Please join us and bring a candle or flashlight!
Vigil Video: https://youtu.be/zEsArw6Hfps

For more information and to help organize in Ann Arbor, contact the event host Corky at https://www.facebook.com/events/2365990303462262/

For more information and to help organize in Ypsilanti, contact ICPJ at [email protected] 734.663.1870
Ypsi Co-sponsors: Interfaith Council for Peace & Justice, The Washtenaw Poor People's Campaign, Love Resilience Action Ypsi
https://www.facebook.com/events/688362441624525/

Download flyer and postcards to print and distribute.
TOMORROW: Applications Due July 12th

Application Due for Leaders of Color Fellowship
More information: https://www.new.org/leadersofcolor/

Application Due for Allies Acadamy
More information: https://www.new.org/alliesacademy/
Both are part of NEW's Champions for Change program that builds the capacity for racial equity leadership in Washtenaw County.

The Leaders of Color Fellowship (LOC) seeks to change the face of leadership by identifying, cultivating, and investing in local leaders of color. The Allies Academy equips mid and senior-level leaders in the nonprofit, for profit, government, and educational sectors with that skills to lead equity- focused change initiatives within their organizations. By focusing on leaders from the community most impacted by the barriers of structural racism, and surrounding them with allies willing to leverage their power and privilege to champion equity initiatives, we are laying the groundwork for measurable change in the disparate outcomes and circumstances of people of color in Washtenaw County.
Poor People's Campaign Washtenaw County
Weekly Coffee & Catch Up
Friday, July 12, 19, 26 — 2:30 to 4 pm
[Same time and place each Friday.]
B-24's Espresso Bar Eats and Entertainment
217 W Michigan Ave, Ypsilanti, Michigan 48197
The Great March for Driver's Licenses: Licencias para Todos

Support Immigrants' Rights to Drive without Fear
Saturday, July 13 — 1 to 3 pm
220 N. Main Street, Ann Arbor
March and campaign led by CoSecha Ann Arbor. More information: https://www.facebook.com/CosechaAnnArbor/


Parkridge Community Meetings
Mondays, July 15, 22, 29 — 10 to 11 am
[Weekly Standing Meeting]
Parkridge Community Center
591 Armstrong Dr. Ypsilanti, MI 48197


Constructive White Conversations
Monday, July 15 — 7:30 – 8:30 pm
Ypsilanti
This discussion is hosted by Standing Up for Racial Justice (SURJ)
Constructive White Conversations is a gathering in which those of us who identify as white can speak freely and openly about race, racism, oppression, isolation, and all related issues. This is an opportunity for white people who want to hold ourselves accountable for identifying and dismantling internalized and systemic racism, who want to build and maintain white anti-racist community, and who are committed to exploring the nature of our own white identities.
For more information and location, email [email protected]


ICPJ Racial Justice Book Group
Tuesday, July 16 — 7 to 9 pm
Monthly on the third Tuesday
Ann Arbor Friends Meeting
1420 Hill Street, Ann Arbor, MI 48104
For more information, contact: [email protected]


Volunteer Opportunity: 2019 ICPJ Booth at the Ann Arbor Art Fair
Thursday, July 18th through Sunday, July 21st
ICPJ has a booth at the Ann Arbor Art Fair. Booth #41 in the nonprofit section on Liberty Street.

ICPJ will be sharing the booth with the Washtenaw Poor People's Campaign, the Washtenaw Congregational Sanctuary, and possibly other social justice allies.

Stop by to say hi, chat with us, or maybe offer a 10-minute reprieve to the booth volunteer during their shift.

We are looking for a few more volunteers. Sign up here:
https://www.signupgenius.com/go/5080C4BADAA2FA5FA7-2019

Volunteers can staff the booth for ICPJ, PPC, WCS, the different caucuses, or closely aligned groups. We'll have literature at the table for each of the participating groups throughout the week. This is a good time to get your information out there. Also, sales are acceptable. You can sell your merchandise. Money collected for the donation jar will go toward ICPJ's cost of the booth and supplies and then be distributed to the participating groups based on how many shifts each org covers.


Friends of Restorative Justice Forum
Sunday, July 21 — 12 pm
Fahs Chapel, First Unitarian Universalist Congregation of Ann Arbor
4001 Ann Arbor-Saline Rd, Ann Arbor, MI 48103
Friends of Restorative Justice (FORJ) is about bringing change to our justice community. FORJ will present a town hall on changing justice in Washtenaw County. There will be a discussion and a presentation on the role of the prosecutor in our community. We have been collaborating with the ACLU on this endeavor as they roll out their smart justice campaign for SMART JUSTICE, a multiyear effort to reduce the U.S. jail and prison population by 50% and to combat racial disparities in the criminal justice system. Our efforts include educating and advocating for a progressive prosecutor's office in Washtenaw County. We welcome your views and participation in changing our justice system to provide dignity, healing, and a safe community for victims and offenders. This event will be co-sponsored by Friends of Restorative Justice, Challenging Racism, and UUAA Indivisible. For more information: Kathy Friedrichs [email protected] or Carolyn Madden [email protected]


Racial Equity Family Fun Day

Sunday, July 21 — 3 to 5 pm
Cultivate Coffee And Tap House
307 North River Street
Ypsilanti, MI 48198

Kids and adults are invited to enjoy stories and activities focused on exploring the four core goals of anti-bias education. We will have a variety of enriching activities for kids and adults alike, light snacks for the young ones, and adults can grab a brewed beverage from Cultivate. This event is geared towards children K-3, but of course, all are welcome (because inclusion).

Suggested donation is $35/family in advance, $40 at the door, but nobody will be turned away. Come join us to nourish kids who are confident in their own identities and courageous in standing up for others.

Register here: https://www.eventbrite.com/e/racial-equity-family-fun-day-tickets-63379580030

Organized and led by Nuola Akinde and Chuck Warpehoski. Supported by ICPJ.


Comments Off on ICPJ Community Peace & Justice Events