For the detailed event listings, scroll down. Please note: The calendar is updated more frequently than the detailed list.

If you would like an event or meeting added to the calendar, please complete this short form.

To add the ICPJ Community Peace & Justice Events calendar to your existing calendar program, click on the "+" before the words Google Calendar in the lower right hand corner of the calendar above.

Upcoming Events
ICPJ Racial Justice Book Group
Tuesday, May 21 — 7 to 9 PM
Monthly on the third Tuesday
Ann Arbor Friends Meeting
1420 Hill Street, Ann Arbor, MI 48104
For more information, contact: [email protected]
Root Causes of Migration & Reflections, with Rabbi Josh Whinston and Mary Anne Perrone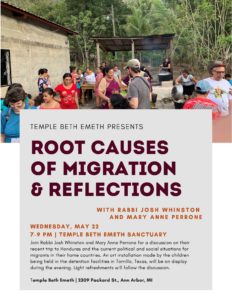 Wednesday, May 22 — 7:00 to 9:00 PM
Temple Beth Emeth Sanctuary, 2309 Packard St., Ann Arbor
Join Rabbi Josh Whinston and Mary Anne Perrone for a discussion on their recent trip to Honduras and the current political and social situations for migrants in their home countries.  An art installation made by the children being held in the detention facilities in Tornillo, Texas, will be on display during the evening.  Light refreshments will follow the discussion.
Sex Offenses: Changing the Conversation

Wednesday, May 22 — 6:45 to 8:30 PM
Episcopal Church of the Incarnation, 3257 Lohr Rd. Ann Arbor 48108
This event is being sponsored by The Episcopal Church of the Incarnation, Citizens for Justice and  The Michigan Council on Crime and Delinquency and will address what is happening in the name of  punishing and preventing sex offenses.
Accusations of sex-offenses have been the justification for some of the worst crimes in our nation's history including attacks on Native Peoples and the lynching of hundreds of African-American men.  This should make us mindful of how easily others can manipulate and mislead us on the basis of our fears and anger.  Currently one quarter of those in Michigan's prisons are there accused of sex-offences.   Within this category there are a wide range of crimes from violent crimes, such as rape and child abuse, to crimes in which no one is physically harmed.  (One of the lowest level sex offenses is simply touching without permission.)  Conviction of any of these crimes will put you on Michigan's sex offender registry for at least 15 years which means almost a life time of having difficulty getting housing, employment and being a full part of society.  The Michigan registry, which currently has 43,000 people on it, has also not proved to be effective in protecting people against crime.  While all of us must be committed to stopping sexual violence and abuse we need to look at what helps and what doesn't help to do this.  Come, find out what's happening and why you should be concerned.
Poor People's Campaign Washtenaw County
Weekly Coffee & Catch Up
Friday, May 24, 31 — 2:30 PM to 4:00 PM
[Same time and place each Friday.]
B-24's Espresso Bar Eats and Entertainment
217 W Michigan Ave, Ypsilanti, Michigan 48197
Bridging 23 Unity Walk

Saturday, June 1 Walk will start at 8:30 AM
Meet at Ypsilanti District Library
415 West Michigan Avenue, Ypsilanti, MI 48197
Walk to Ann Arbor Downtown African American Festival
Bridging 23 Unity Walk, Co-sponsored by ICPJ, is designed to build unity between the East and the West side of Washtenaw County. There is a very real perception in Washtenaw County that the County is divided by Race and Economics and US 23 is the dividing line. The goal of the Bridging 23 Unity Walk is to show that that perception is wrong and that we, as a county, live, work and play together for the benefit of all Washtenaw County residents regardless of Race or economics.
Walk will start at 8:30 AM starting in Ypsi and end in downtown Ann Arbor. Check back soon for location details.
Free and open to the public. Register here.
Washtenaw Poor People's Campaign Open Meeting
Thursday, June 6 — 5:30 PM
Brown Chapel AME
229 W Michigan, Ypsilanti
This meeting is to discuss the merits of organizing a "Good Citizen" campaign focused on challenging the policies and practices of the University of Michigan and Eastern Michigan University (the two largest employers in our county) around employment discrimination against those with criminal charges or convictions, global warming (carbon reduction), and affordable housing. We hope you will join us!
ICPJ Racial and Economic Justice Task Force Meeting
Thursday, June 13 — 12 to 2 PM
Monthly on the second Thursday
Interfaith Council for Peace and Justice
1414 Hill St, Ann Arbor, MI 48104
ICPJ Annual Meeting
Saturday, June 15 — Doors open 1:30, Meeting from 2 to 4 PM
Riverside Arts Center in the downstairs Gallery (elevator access available), 76 N Huron St, Ypsilanti, MI 48197
We will hold the business meeting as well as a workshop where we will shape ICPJ's future work. Your voice is important to this process!
Per ICPJ's bylaws, voting members are those who update their membership 7 days prior to the meeting — by June 8th. You can do so here.
ICPJ Racial Justice Book Group
Tuesday, June 18 — 7 to 9 PM
Monthly on the third Tuesday
Ann Arbor Friends Meeting
1420 Hill Street, Ann Arbor, MI 48104
For more information, contact: [email protected]
In the works: Asylum Workshop
Sunday, June 30
Time and Location TBD
The Washtenaw Congregational Sanctuary and Interfaith Council for Peace and Justice are currently planning a workshop on the process and need for support of immigrants seeking asylum.  If you would like to co-sponsor or join in the planning, please contact us: [email protected]
Help Organize: Peace & Justice Flotilla
We're planning a day for Peace & Justice community to canoe / kayak in the summer. Let us know if you would like to help organize: [email protected] 
Comments Off on ICPJ Community Peace & Justice Events