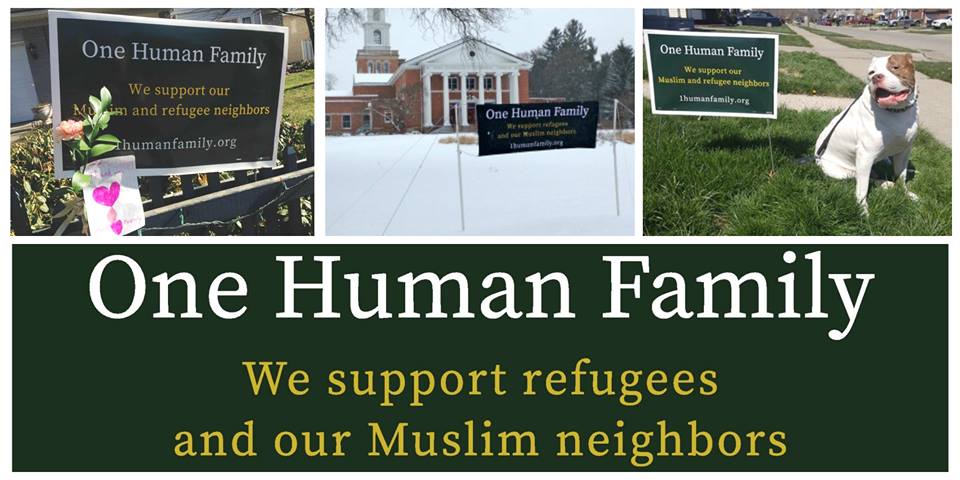 All deserve to feel welcome in this home we share, and we want our Muslim sisters and brothers who have supported us consistently as community members to know that when they are so unfairly condemned we will speak out more loudly to defend them. Additionally, for those seeking to create a home in the United States, we are a nation who believes in judging others by their character, not by their color, nation of origin or religion. We are one human family.
In the aftermath of the election we have been seeing an increase in hate crime attacks and harassment of people of color, Muslims, immigrants, the LGBTQ community, and other vulnerable populations. Additionally, many people are concerned that ideas floated in the presidential campaign such as mass deportation, a registry of Muslims in the US, and encouraging racial profiling in law enforcement.
On November 17, ICPJ brought together over 150 people for an organizing meeting to discuss what we can do to support targeted communities and develop
Direct Support For Targeted Communities
As hate speech and hurtful policies target people from various communities, how can we as individuals and a community stand up directly to support those affected? This working group is exploring trauma support, care packages for people who are victims of harassment, tutoring for refugees, and other methods to support those who are being singled out.
Understanding and Relationships Across Difference
In the election and aftermath we have seen a lot of fear of "the other," whether that "other" is an undocumented immigrant, a Muslim, a transgender student, or a Black Lives Matter protester. Often, however, this fear is entirely divorced from real understanding of or relationship with the actual people in those different groups. The Understanding and Relationships Across Difference team is developing ways to:
Present educational programming to help people understand various groups, such as "understanding Islam" workshops, anti-racism classes, and other programs for religious and civic groups;
Develop relationships of love and trust across difference. I believe that it is building these relationships that makes the work for justice and inclusion a passionate and personal commitment and not just an intellectual abstraction.
Structural analysis to help people understand the systems that promote division and inequality—and how to combat them.
Bystander Intervention
When you see a news story of someone harassed on the bus or attacked on campus, do you ever wonder what you would have done if you had been there? We all would like to think we would of spoken up or done something to intervene, but the worry is there that we would be paralyzed by fear or not knowing what to do.
The good news is that there are tactics that you can use to help protect others' and increase their physical and emotional safety. The Bystander Intervention group is:
organizing trainings so people know how to respond,
creating a train-the-trainer program to expand our ability to reach new audiences,
sharing stories of people intervening and support one another in intervening to empower folks to act and to remember the skills they have even without training, and
developing resources from people in the targeted groups on how to respond and not be a victim.
Political Action
Some of the work to build a community of justice, inclusion, and equity is community-based, but much of it is also affected by policies. The political action group is developing tools to help people take action on emerging issues, train activists and organizers to be more effective, and build effective coalitions for impact.
If you would like to get involved with any of these groups please email info@icpj.org or call 734-663-1870.
---
Interested in a sign or banner?
Order a Banner
Banners are 8'x3′ and are available for $100, including shipping within the contiguous United States. Expect 7-10 business days for delivery. Banners are printed on weather-resistant vinyl. Order online here. For express service call 734-663-1870.
Order Yard Signs
Yard signs have a suggested $5-10 donation and are available at for pickup at the Interfaith Council for Peace and Justice office, 1414 Hill St. Ann Arbor MI, 48104, behind the Ann Arbor Friends Meeting house, with parking available off the alley in back. Signs are available outside for self-service, 24/7.
Donate online here or put your donation in the mail box at the Hill St. office, or call 734-663-1870 or email info@icpj.org for details.
Bulk Orders: You can order bulk deliveries of One Human Signs for your congregation or community. The cost is $275 for a bundle of 50 signs, shipped anywhere in the contiguous United States. Order Online. Contact us at (734)-663-1870 or email info@icpj.org for orders more than 250.
---
Check out the "Peace is Here" video by Q4T!
Listen to ICPJ Director, Chuck Warpehoski, talk about the impact of the One Human Family campaign on the Giving Back Podcast here.
Comments Off on One Human Family