2021 ICPJ Harvest Dinner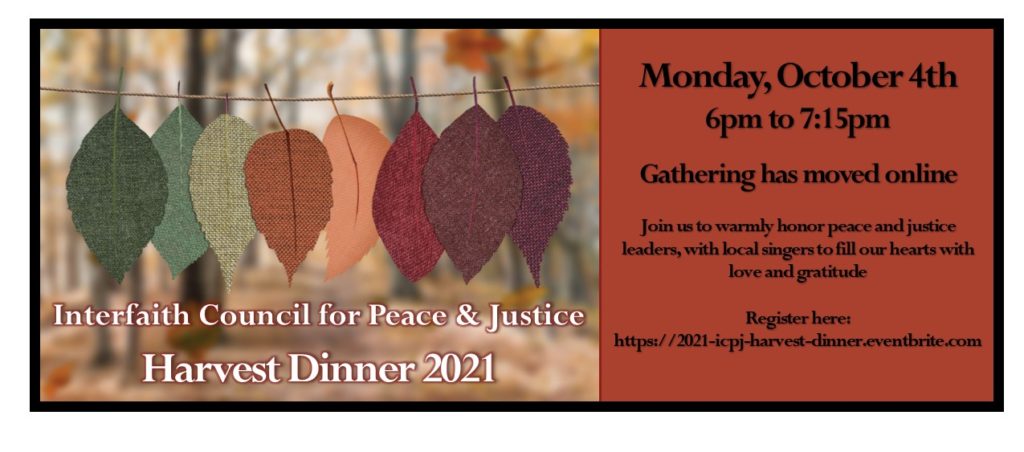 Traditionally, the harvest is a time of intense labor, gathering the final yield of the year's labors, followed by a celebration. We had hoped to gather together in person this year to celebrate and honor the amazing work that has been done, however with ongoing high transmission of the delta variant, we have decided to make this year's Harvest Dinner an online gathering.
We rely on this major fundraiser to support ICPJ with $20,000 in donations, and so we are asking that you give at the same level that you would have if we had gathered in person and enjoyed a good meal together. We also ask that you approach any congregation or organization you are a part of to ask them to consider sponsoring our gathering. Addressing racial and economic inequality and climate justice has never been more important. Together we can make a difference through our financial support of ICPJ.
We look forward to seeing you online on Monday October 4th as we honor some of those in our community who have been leading us in this struggle. Please register for the gathering here: https://2021-icpj-harvest-dinner.eventbrite.com
Thank you,
The ICPJ Board of Directors
We will be honoring activists who embody the values of ICPJ:
2021 Peace & Justice Honoree: Natalie Holbrook
Peace and Justice Network Organization: We The People Michigan
Emergent Leader: Student Advocacy Center
Anti-Racist Advocate: Trische Duckworth
Network Weaver: Gail Summerhill
ICPJ centers racial and economic justice as we address the root causes of violence from oppression, poverty, environmental devastation, patriarchy, and war. We wage love and practice nonviolence in all its forms through education, community organizing, advocacy, and direct action. We unite across our differences and empower leadership in people to create the change we need for a more peaceful and just world.
Interfaith Council for Peace and Justice is committed to healing as a diverse community by dismantling systems of violence and building our collective capacity to live our shared values of peace, justice, and ecological sustainability. We believe that relationships that individuals and communities build through learning, mobilizing, organizing, and growing together create the foundation for co-liberation, abundance, and dignity of all life and our planet.
---