Support the Immediate Release of Immigrant Detainees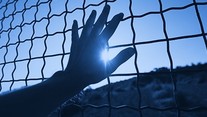 Please consider taking action in this urgent campaign. Instructions here.
The current COVID-19 crisis is posing a particular danger to immigrant detainees in ICE detention centers and in local jails on contract with ICE nationwide, where the effective preventative measure of social distancing is non-existent. An open letter signed by over 3,000 medical professionals has been addressed to ICE to that effect. A COVID-19 outbreak in these facilities will create a health crisis for the detainees, staff, and surrounding communities.
The number of COVID-19 cases in Michigan's prison population has doubled in late March 2020. In New York, three migrant children in government custody have tested positive for COVID-19. The federal court also ordered the release of a number of immigrant detainees in California and New Jersey.
Efforts have recently been galvanized across the country to seek the release of immigrant detainees. ICPJ is sponsoring a statewide letter-writing campaign toward that goal.
---