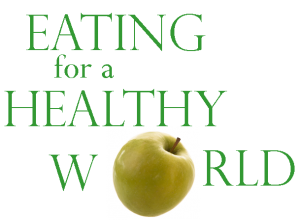 Food is a necessity; food is a basic human right and food, what we choose to eat and how it is produced, reflects our values, beliefs, and  faith.  Too often, the food that makes its way from field to plate reflects poorly on our religious, moral, and ethical beliefs.  It harms our planet, our communties, and our bodies.  We need to begin eating for healthy world.
As a work of justice and to help you become engaged to advocate for fair and sustainable food, the Interfaith Council for Peace and Justice is launching Eating for a Healthy World.  We want to encourage people of faith and their congregations to put their faith into action by making healthy food choices that will reduce the effects of climate change, protect the environment, and provide access to healthy, sustainable food to everyone especially the poor and vulnerable.
We have developed a Menu for Change where you will find information and resources to help you explore the  relationship between faith, food, fairness, and environmental justice.  You will learn how our food, what we eat and how we produce it, affects the Earth's climate.  Download the latest version of A Menu for Change.
At the center of Eating for a Healthy  World is a 5 week challenge to eat a "Climate Friendly diet" with a "menu" of options around weekly themes:
Eat local and seasonal food
Choose whole and organic food
Reduce meat and dairy
Decrease packaging and food waste
Celebrate farmers, farm workers, and fair food; take action for a fair food system
Download the Eating for a Healthy World Challenge.
In addition, you will receive on-going monthly specials, action steps to connect you and your congregation with organizations and efforts working to improve access to sustainable and just food in your community, country, and world.
We want you to become engaged citizens committed to justice and fair food for all that  preserves our planet and creates a healthy world.
We will be revising and developing this initiative so check this page often for the latest news, inspiration, action steps, the most current Menu for Change, new challenges, reflection questions, discussion forums, and much more.
Together we can find a better way.