Finish the Job September 17th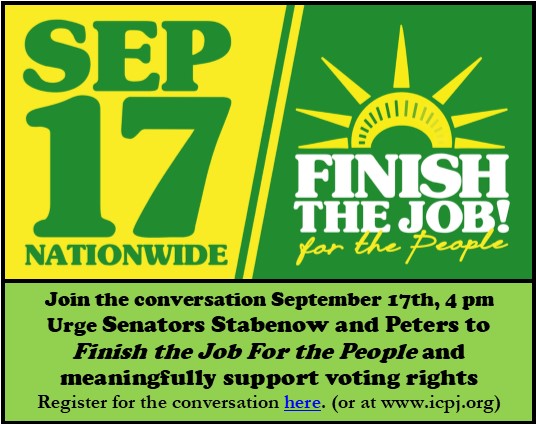 Register for the conversation here. (or at www.icpj.org)
Across the country, extremist state politicians are passing anti-voter bills making it harder for people to vote, especially in Black and Brown communities.
The For the People Act (S1) would protect our freedom to vote, get big money out of politics, ensure fair districts, and help create a democracy that works for all of us.
Majority Leader Schumer has promised that voting rights will be the first legislative priority when the Senate returns to Washington D.C. on September 13th.
Join us on September 17th, Constitution Day, as a part of a nationwide Day of Action—to urge Senators Stabenow and Peters to Finish the Job For the People and meaningfully support voting rights by taking a fierce public stance in favor of filibuster reform and by passing the For the People Act quickly.
Nothing — public benefits, environmental legislation, infrastructure, rights for women or Black, Indigenous, and Brown people — can be secured without securing our fundamental right to vote. Without the right to vote, everything else goes up in smoke.
---