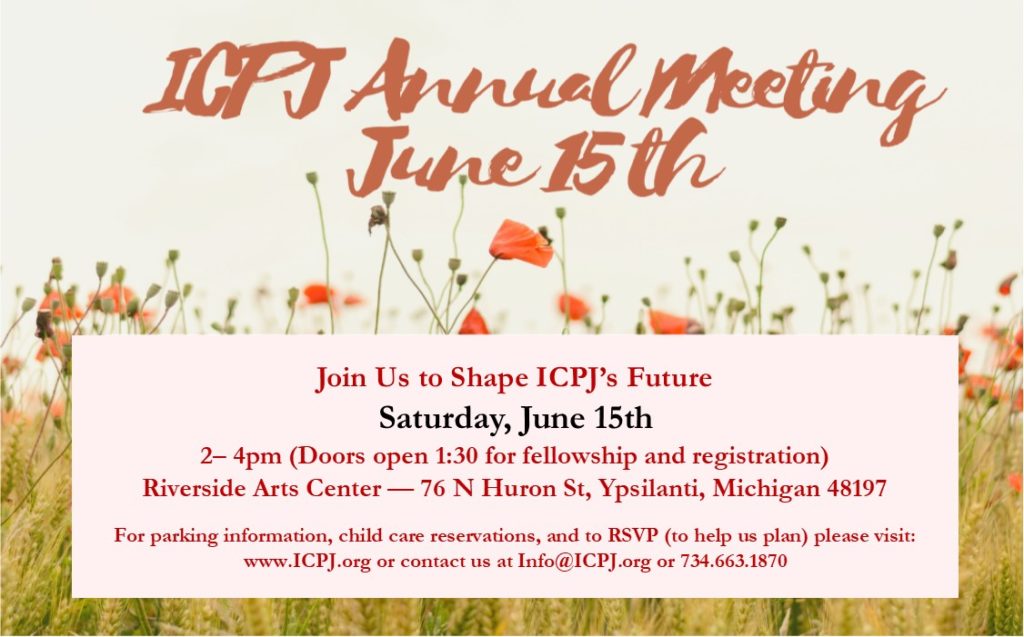 At this meeting, we will shape ICPJ's future work – and your voice is extremely important to this process. Please help us plan by letting us know you are coming, RSVP here.

When? 
Saturday, June 15th — 2-4 pm (doors open at 1:30 pm)
 
Where?
Riverside Arts Center
Downstairs Gallery (elevator access available)
76 N Huron St, Ypsilanti, MI 48197
 
What about parking?
Parking is available on the street and in the public lot just North of the bus depot (Washington & Pearl).
We ask attendees to reserve the Riverside parking lot spaces for those with mobility challenges.
 
What about childcare?
Childcare will be available if requested.
Please make a reservation by June 6th: [email protected] or 734.663.1870
 
We have included the proposed agenda and the proposed changes to the By-Laws here: https://bit.ly/2JBLIoB
All are welcome to participate in this meeting. Per ICPJ's bylaws, voting members will be asked to consider Board nominations and modifications to the bylaws. Please update your membership today. You can do so here.