As people of conscience, building a more compassionate world, we want to organize support for asylum seekers. That is why ICPJ is co-sponsoring with the Washtenaw Congregational Sanctuary the Supporting Asylum Seekers Forum on Sunday, June 30th, from 2-5pm. Location: The Church of the Good Shepherd, United Church of Christ, 2145 Independence Blvd, Ann Arbor, Michigan 48104. Please join us!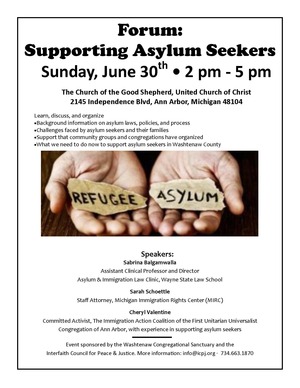 Often, asylum seekers have fled violence in countries deeply hurt by U.S. military, political, and economic policy. After often facing a perilous journey to seek asylum in the U.S., many face family separation, inhumane conditions in detention, inadequate legal support, and layers of obstacles to demonstrate their life or death need for asylum.
The U.S. is ramping up detention as well as mass deportations. We must act to support immigrants' rights. One way to do this is to organize a concerted effort to support asylum seekers specifically.
We invite you to participate in this forum to learn more about asylum, the challenges faced by asylum seekers, and the ways that our community can organize to support our neighbors and defend human rights.
Please distribute the flyers or postcards, in your networks as appropriate.