Thanks to all the walkers, donors, and volunteers who helped make this year a success! Your involvement helped support hunger relief and prevention both at home and abroad.
Thanks to Bethlehem U.C.C. for hosting CROP this year and for providing us with a delicious community meal after the walk. We appreciate Tom Z. and his crew of hard working volunteers.
Highlights:
Over 500 walkers joined to raise awareness and funds to fight hunger
Together walkers raised over $52,000 to help end hunger. Download a copy of the final 2011 CROP Hunger Walk Report.
Over 120 lbs of canned foods were collected and distributed to Northfield Human Services and Emmanuel House.
over 75 volunteers joined to help make this day happen
Your participation impacts hunger here in our community and across the globe. Thanks for joining us! We look forward to seeing you at Bethlehem U.C.C. on October 14, 2012 for the 2012 CROP Hunger Walk.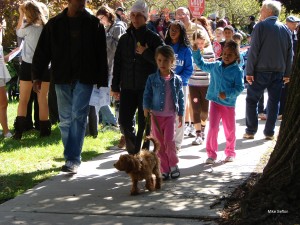 Comments Off on Washtenaw/Ann Arbor CROP Hunger Walk 2011