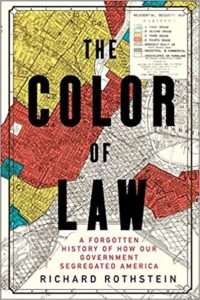 In this groundbreaking history of the modern American metropolis, Richard Rothstein, a leading authority on housing policy, explodes the myth that America's cities came to be racially divided through de facto segregation―that is, through individual prejudices, income differences, or the actions of private institutions like banks and real estate agencies. Rather, The Color of Law incontrovertibly makes clear that it was de jure segregation―the laws and policy decisions passed by local, state, and federal governments―that actually promoted the discriminatory patterns that continue to this day.
Free and open to the public.
We encourage you to support local and independent bookstores. 
WHEN: All events begin at 7pm on the Third Tuesday of each month
March 20: The Color of Law. Read from "Preface" through Chapter 3, entitled, "Racial Zoning," pages vii – 58.
April 17:  The Color of Law. Read from Chapter 4 entitled, "own Your Own Home," through Chapter 6 entitled, "White Flight," pages 59-100.
May 15:  The Color of Law.  Read from Chapter 7 entitled, "IRS Support and Compliant Regulators" through Chapter 9 entitled, "State-Sanctioned Violence," pages 101-152.
June 19: The Color of Law.  Read from Chapter 10 entitled, "Suppressed Incomes," to end, pages 153-218.
WHERE: Ann Arbor Friends Meeting, 1420 Hill Street, Ann Arbor.  Use the alley south of Hill Street.  Turn from Hill onto Lincoln (first street on left after turning onto Hill from Washtenaw), then turn right into the first alley on the right and park in the lot just behind the Friends Meeting House near the far end of the alley.