Creating Cultures of Peace: An Interactive Intergenerational FREE Event!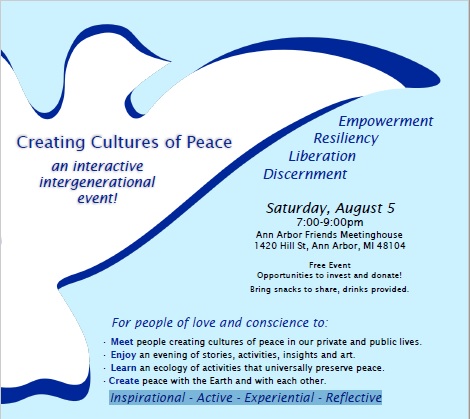 For people of love and conscience to:
• Meet people creating cultures of peace in our private and public lives.
• Enjoy an evening of stories, activities, insights and art.
• Learn an ecology of activities that universally preserve peace.
•Create peace with the Earth and with each other.
Featuring Trainers:
Nadine Hoover coaches citizens to create cultures of peace in the most unlikely places, refugee to extremist to professional to farming communities. She offers training
and materials through Conscience Studio, maintains the Power of Goodness Global Story Pool, and
coordinates Friends Peace Teams in Asia West Pacific.
Autumn Star serves as a postpartum doula for families with new infants and a mentor
for teens. They facilitate retreats, learning events and non-violence training. Autumn is a grown unschooler, dancer and peopleperson who honors the joy and pain that is living and learning in the world today.
Su Hansen leads non-violence workshops including Bystander Intervention trainings for Interfaith Council for Peace and Justice (ICPJ) and Meta Peace Team. She is a psychotherapist and personal and spiritual guide and helps clients create peaceful lives and families.
WHEN: Saturday, August 5, 7:00-9:00pm
WHERE: Ann Arbor Friends Meetinghouse, 1420 Hill St, Ann Arbor, MI 48104
Free and open to the public.
Bring snacks to share, drinks provided.
*Co-Sponsored by ICPJ, Conscience Studio, Power of Goodness, and AVP