Interfaith Council for Peace and Justice inspires, educates, and mobilizes people to unite across differences and to act from their shared ethical and spiritual values in pursuit of peace with social and environmental justice.
Interfaith Council for Peace and Justice envisions a world free from violence, including the violence of war, poverty, oppression, and environmental devastation. To enact this vision, we commit to nurture a community in which compassion and respect foster actions that dismantle systems of violence while simultaneously creating systems of peace, justice, and ecological sustainability.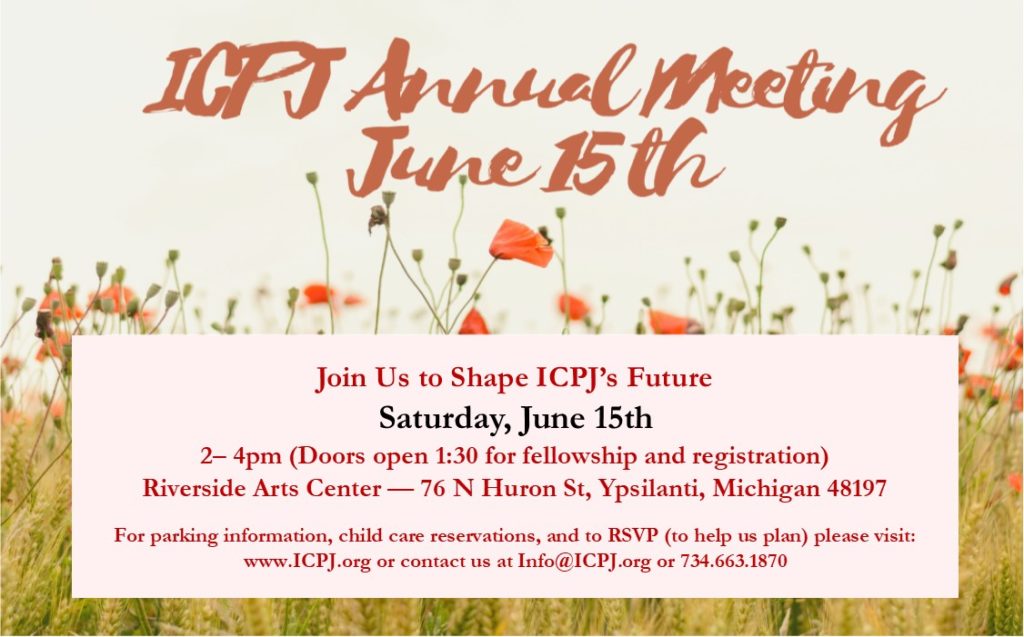 At this meeting, we will shape ICPJ's future work – and your voice is extremely important to this process. Please help us plan by letting us know you are coming, RSVP here.

When? 
Saturday, June 15th — 2-4 pm (doors open at 1:30 pm)
 
Where?
Riverside Arts Center
Downstairs Gallery (elevator access available)
76 N Huron St, Ypsilanti, MI 48197
 
What about parking?
Parking is available on the street and in the public lot just North of the bus depot (Washington & Pearl).
We ask attendees to reserve the Riverside parking lot spaces for those with mobility challenges.
 
What about childcare?
Childcare will be available if requested.
Please make a reservation by June 6th: [email protected] or 734.663.1870
 
We have included the proposed agenda and the proposed changes to the By-Laws here: https://bit.ly/2JBLIoB
All are welcome to participate in this meeting. Per ICPJ's bylaws, voting members will be asked to consider Board nominations and modifications to the bylaws. Please update your membership today. You can do so here.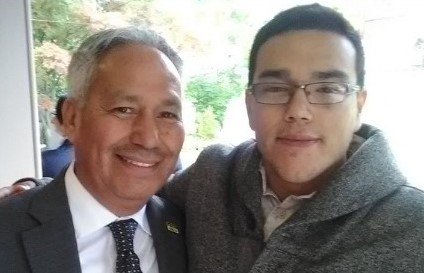 We are calling on the ICPJ community to take a moment to send letters to your representatives to support asylum for Emilio and Oscar Gutiérrez Soto, members of the Ann Arbor community. We have made it easy – follow this link, enter your information, modify the suggested letter if you like, click, and send the letter(s).

Emilio Gutiérrez Soto is a Mexican investigative journalist who exposed military corruption in Mexico. Since then Emilio and his son, Oscar Gutiérrez Soto, had to flee to the US due to the active and imminent death threats targeted against them. They have been living in the US for ten years, always abiding by immigration regulations. Despite their compliance and strong case for asylum, their asylum petition has been denied.

Emilio and Oscar Gutiérrez Soto have become an important part of our community in Michigan. Help us support their efforts to seek asylum in the US and prevent them from being deported to Mexico, one of today's deadliest countries for journalists. Please reach out to your representatives and speak up for Emilio and Oscar through the letter campaign.
See more information: https://www.michigandaily.com/section/government/dingell-upton-urge-halt-deportation-knight-wallace-fellow-emilio-gutierrez-soto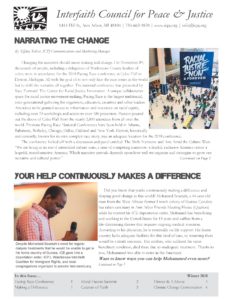 The 2018 ICPJ Winter Newsletter is available for download. Check it out for a report back from the 2018 Facing Race Conference, updates on Congregational Sanctuary, human rights organizing for immigrant youth, and much more.
Thank you.
I am so proudly grateful for what you and the whole ICPJ community do to:
Train up the next generation of activists
Speak out against injustice
Provide sanctuary in the face on unjust deportation orders
Change minds, change hearts, and change policies
Care for the Earth
Bring people together
Speak out against Islamophobia
And so much more.
Thank you for making the world a better place.
Interfaith Council for Peace & Justice unequivocally stands with our immigrant sisters and
brothers throughout the United States and with our immigrant neighbors in Washtenaw County.
Our advocacy and our work with immigrants moves us to speak out and act for justice for our
neighbors:
There is a U.S. migration policy disaster, not a migration crisis. Contrary to the impression
created by xenophobic rhetoric, apprehensions of migrants at the southern border were down
44% in 2017, and net migration from Mexico has been negative since 2008 as more Mexicans
are leaving the United States than entering. The foreign-born population (documented and
undocumented) is about 13% in the United States, a smaller proportion than at the peak in 1890
and less than many other countries including Canada, Australia, New Zealand, Switzerland, and
Germany. Continue Reading »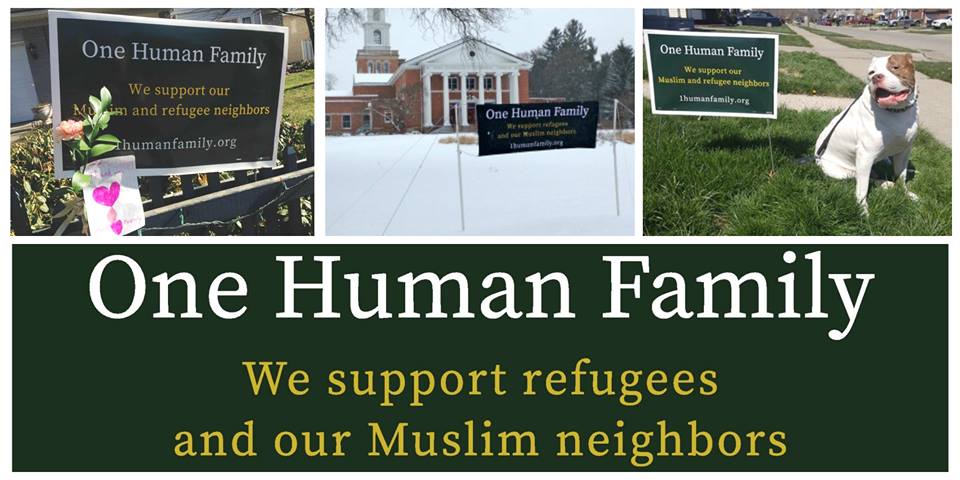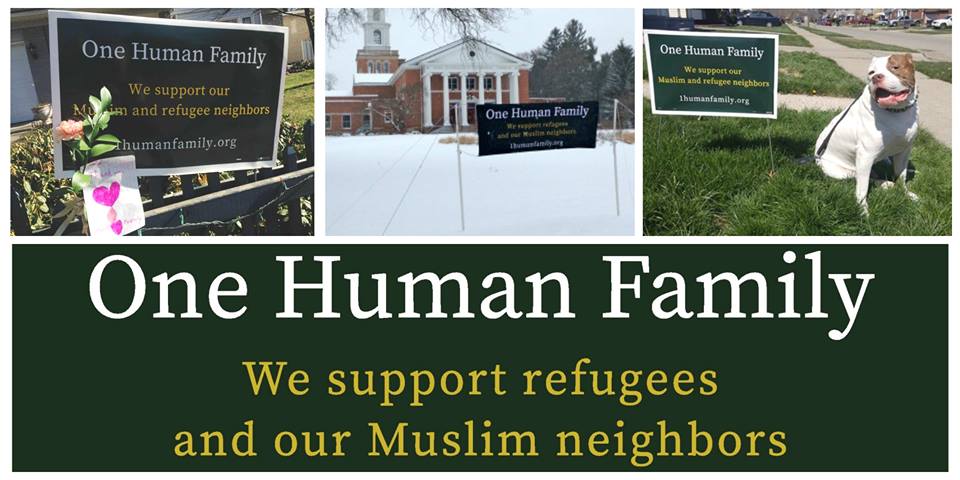 What can we do in the face of the growing anti-Muslim and anti-Refugee rhetoric in the US? We can speak out for inclusion!
The Interfaith Council for Peace and Justice and Interfaith Round Table of Washtenaw County launched the One Human Family campaign in 2016 to mobilize religious and community voices to say NO to hate and fear-mongering and YES to inclusion and welcoming.
Show your support by ordering your yard sign or banner here today!
The Interfaith Council for Peace and Justice (ICPJ) has issued a statement that clarifies our recognition and support of the human rights of LGBTQ+ people. ICPJ roots our peace and justice work in the belief that all people are deserving of human rights such as freedom of expression and freedom from violence and poverty, and ICPJ therefore believes that it is important to clarify that those rights apply to all people, regardless of sexual orientation, gender identity, or gender expression.
As an interfaith coalition organization, ICPJ has always been mindful of the importance of respecting all of our coalition partners so that we can most effectively create change. The policy statement below was developed with feedback from community and congregational leaders from across the ICPJ coalition.
Statement on Universal Human Rights and Inclusion of Community Partners
Approved by the ICPJ Board of Directors June 29, 2016
The Interfaith Council for Peace and Justice strives to bring about greater peace and justice by working across many different faiths and philosophies. Although religions may differ in specific teachings, we believe that all the faith groups ICPJ works with are grounded in an enduring respect for human life and dignity. As such, ICPJ roots our peace and justice work in a commitment to universal application of human rights. We model our understanding on the United Nations Universal Declaration of Human Rights established in 1948.
ICPJ affirms that all human beings are equally entitled to basic human rights including but not limited to: dignity, freedom of expression, freedom from violence and threats of violence, and access to health, education, housing, employment, and commercial goods and services. We recognize that these human rights apply to all people, regardless of sexual orientation, gender identity and expression, age, sex, race, ethnicity, language, nationality, economic status, ability status, religious beliefs, or political beliefs.
ICPJ celebrates the important work happening in Washtenaw County and beyond to strive towards a vision of greater peace and justice. Although we each may differ in how we seek to achieve this vision, we know that as activists, community organizations, and faith groups, we are stronger together than we are apart. ICPJ will continue to work towards peace and justice with all those who share our enduring, foundational belief in human life and dignity.
Over fifty Ann Arbor and Ypsilanti faith leaders issued a Statement on Policing and Racial Justice below. To sign up use the form at the right, or contact Rev. Jeff Harrold at [email protected], or 734-353-2527.
Statement on Policing and Racial Justice
"…What does the Lord require of you, but to do justice, and to love kindness, and to walk humbly with your God?" Micah 6:8
As a county-wide, inter-faith advocacy effort with a faith-inspired platform that fosters mutual respect and effectiveness, we are compelled to mobilize and speak up for justice and equality. In particular, we believe that there is a great need for the leaders of faith to speak to the systemic racial injustice that is experienced by many in our communities. Our obligation is to speak up whenever anyone is treated unjustly for as Rev. Dr. Martin Luther King said: "An injustice anywhere is a threat to justice everywhere." Continue Reading »